Tweet
.
DISCOVER the powerful secret that
thousands of women already have –
that the perceived mistakes of your
past were lessons to guide you to the
life you are DESTINED to live!
(My story and that of 41 extraordinary women are living testimony that
your past does not define your future – Your thoughts and Actions do!)
| | |
| --- | --- |
| | …Personal Message From Publisher Linda Joy |
.
Here's the Secret…
.

Yes, it's that simple! A powerful, transformational secret that thousands of women have discovered and are now embracing after purchasing their copy of  A Juicy, Joyful Life. A transformational book so warmly embraced that within hours of its release it reached #1 Hot New Release in two Amazon categories (Self-Esteem and Spirituality) – even bypassing Chicken Soup for the Soul® and Dr. Phil's latest books.
A book overflowing with the intimate stories of women who have released the shackles of shame, regret, and self-condemnation to begin living the life they are destined to live.

Amazon #1
Hot New Release
in Self-Esteem and Spirituality
now available as an
eBook and MP3 Audio Book


3 Convenient Options

click for Paperback version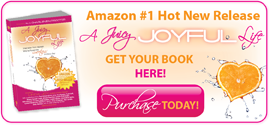 click for eBook version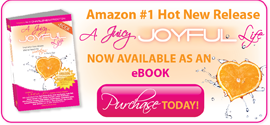 click for MP3 Audio Book version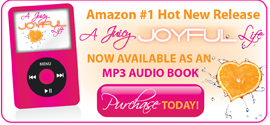 Don't forget to come back here to

CLAIM YOUR THANK YOU
BONUS GIFTS


YES,
I'm ready to claim my FREE
BONUS GIFT PACKAGE featuring an
amazing array of products and
services from our friends and
partners.

Click here to Peek

*Have your order confirmation number ready
when claiming your gifts.
Privacy Policy
I'm honored to introduce you to forty-one powerful women who stepped forward to share the most intimate moments of their transformational journey to authenticity, self discovery and wholeness with one collective intent – to inspire women to BELIEVE that they too have the power within to overcome their past and live a juicy, joyful life!
.
Through the pages of A Juicy, Joyful Life you will get to know these extraordinary women who have conquered their greatest fears, battled their fiercest demons and emerged as stronger, more authentic women. Women who went from imagining the life of their dreams to LIVING IT!
.
Freeing Yourself from the Past is Possible…
Rev. Dr. Charlene M. Proctor's foreword beautifully captures that essence…
… it is entirely possible to empty our bodily containers of fear, regret, worry, self-doubt, and old emotional programming and conditioning and live in the present moment. But we must make a conscious decision to stop clinging to our old stories and reliving them.   … There is no room for personal or spiritual growth when our lives are polluted by the agonies of the past. …

~ Rev. Dr. Charlene M. Proctor

Listen to the Foreword
.
A Juicy, Joyful Life has been called 'a woman's trail guide to discovering her own authentic story.'  Each women's original narrative is followed by a journaling page featuring three thought-provoking Juicy Questions, to help you delve deeper into the lessons presented within each unique and heart-felt story.
.
Praise for A Juicy, Joyful Life
.

"A Juicy Joyful Life takes you into the minds, hearts, and stories of women who have felt their inner pain, moved through their healing, and expanded into their joy. Find guidance and inspiration for your journey in this insightful book."

~  Lisa Michaels, President Natural Rhythms Institute.
"A Juicy Joyful Life is a stirring and soulful book to be savored, written in, dog-eared, and shared with friends. Read any story in this remarkable collection and you will be transported to a world that will make you laugh, cry, and grow beyond your own self-imposed limits. You will know without a shadow of a doubt that you already are who you always were."

~ Kat Tansey, author of  Choosing to Be: Lessons in Living from a Feline Zen Master
To read all our amazing tesimonials – Click Here
.
Order A Juicy, Joyful Life now…
.

Be sure to claim all Your Transformational Gifts!
(Read on if you've dreamed of being a Published Author)
Fulfill your Dream of being a Published Author with a leader in Women's Inspirational Publishing.  At ILP we are dedicated to publishing the stories, wisdom and insights of women like YOU and to publish content that empowers, inspires and uplifts.
To learn about our current book project: www.InspiredLivingPublishing.com
Be sure to sign up to receive our monthly email with updates on new projects, writing opportunities and contests. You'll receive our complimentary ebook "The Power of Collaborative eBooks" just for signing up.